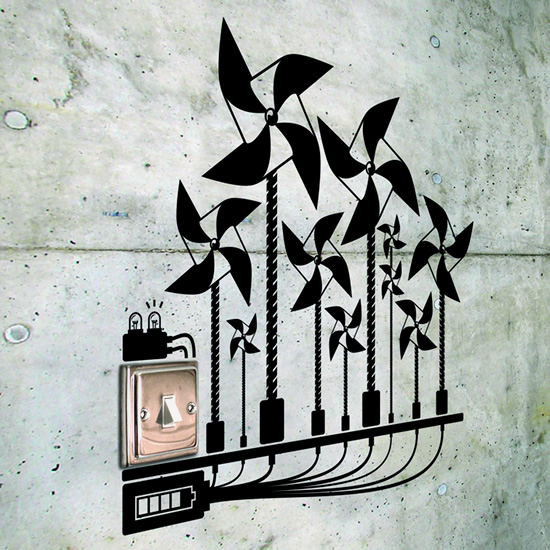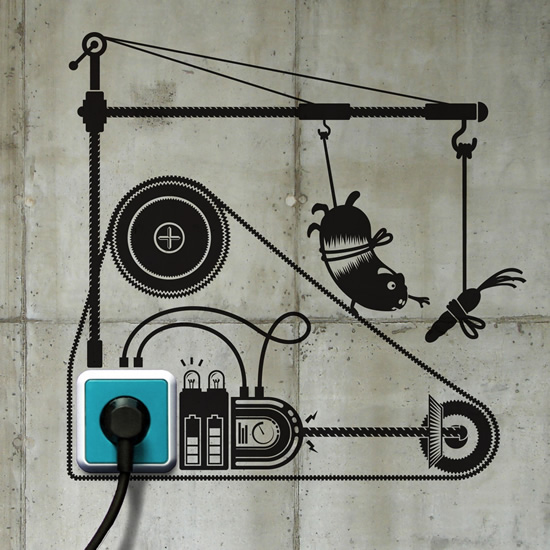 (wall stickers from Hu2 )
Today challenge is this one ::
Replace kilowatts with ingenuity — explore no-energy
alternatives to accomplish your daily tasks.
Are we going to "eliminate" or "mitigate" ?
Just to be clear up front :: we are not going to live without electricity.
So mitigate we will try to go.
I know my husband and some family members read this blog :: I don't want them to freak out !
We will keep our fridge, our washing machine ( I truly enjoyed the grape stomping bath tub style in the movie : I am willing to try it out one day), our dyer [Ya, ya : I know shame on us for the dryer :: but, look we live around Paris where we have about 4 months of dry season and the rest of it we are soak wet and cold...so...here you go: dryer !].I am not saying I am proud of it though, I am just being pratical, for once... We do get the laundry to dry out when days are sunny or breezy. They smell better anyway.
We will keep our TV ( we have only one that we watch sometimes but use it mostly for DVD carefully screened by maman...) and our computers ( ours like in 3, ahem... :: a year old laptop for each parent and a big one bought second hand 6 years ago..). Girls are not addicted to TV at all : they play a lot with wooden, recycled dolls, ( Emmaus = Goodwill / garage sale) toys or dress-up. We also enter the board games age with Alana. Craft making is big too. They have a special drawer in the kitchen and we share a space in my atelier. And reading (or pretending to for Tessa) is a BIG emphasis in our family.
Add to all of these ... a brand new iPad for Mummy ( a Santa gift !) ... and two cell phones among them my new iphone (a cool upgrade for me and my old one has been recycled by our phone provider as a second hand phone...)
Oooops , i know : if Colin's wife Michelle was addicted to her TV screen, I am definitely addicted to Apple... And this will remain as is for the moment.
Gotta have some addictions somewhere, right ?... Right.
Well,
I have two : some magazines that I love buying & all the i.something. Voila.
But to power all those gimmicks we trade the regular EDF french electricity company powered mostly by nuclear :( for a fantastic electricity supplier called ENERCOOP. After intensive research (I am a Capricorn, so when I say Intensive :: I mean I

NTENSIVE

) I found out that their founding member is.... GREENPEACE and a big organic food store called BIOCOOP. No more hesitation : we made the change. So even though we still have and use our appliances we are powered through GREEN ENERGIES. So we feel like we are actually doing something in the end.
In my little business, I use very little energy.
Besides walking across the courtyard to go to my studio, all i need is my sewing machine, some music, some direct daylight, my screen printing tools, my creativity and some brain cells...
Of course my ideal house will be this one. It is "Guest House" where we stayed a year ago to celebrate our wedding anniversary with our girls. It is a self sufficient house powered by solar and wind.
Things we need to improve to power down ::
* turn off computers at night to avoid the ghost power
* install a drying rack inside to cut down on use of dryer
... and get away from this computer !